Banana Pi M4 / BPI-M4 - Raspberry Pi 3 Model B + Mini PC Based on RTD1395 and M.2 Slot
Banana Pi M4 / BPI-M4 is a single board computer in the Raspberry Pi 3 Model B form factor , the product is equipped with the Realtek RTD1395 SoC - this chip contains four ARM Cortex-A53 computing cores. The Mali-470 MP4 GPU accelerator is responsible for graphics processing, which supports the operation (playback) of videos in 4K resolution. The basic version of the novelty contains only 1 GB of DDR4 RAM, but there are modifications with 2 GB of RAM. The model has a built-in eMMC-drive with a capacity of 8 gigabytes, in addition, you can install a microSD card up to 256 GB.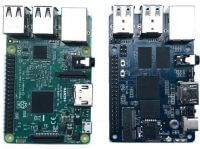 Banana Pi M4 can work in Wi-Fi 802.11b / g / n / ac and Bluetooth 4.2 wireless networks. In addition, an Ethernet controller is provided for wired network connectivity. The solution is endowed with an HDMI 2.0 interface, four USB 2.0 ports, a USB 2.0 Type-C port, a socket for a network cable, an M.2 Key E slot, a 40-pin extended I / O connector (GPIO with support for UART, SPI, I2C, etc.) .P.).
The Banana Pi M4 / BPI-M4 is powered by a 5V adapter via USB 2.0 Type-C, power pins or PoE. It is recommended to use a 2A power supply.
Banana Pi M4 PC is fully compatible with Linux operating systems. In particular, for this model, in addition to the documentation, assemblies of images of Android 8.1.0, Ubuntu 18.04, raspbian stretch and Arch Linux are already available for downloading and flashing.
Main characteristics
SoC Realtek RTD1395;

Processor 64-bit 4-core ARM Cortex-A53;

Graphic coprocessor Mali-470 MP4;

1/2 GB DDR4 SDRAM.

M.2 Key E;

USB 2.0 TYPE C;

PoE support;

WI-FI and Bluetooth 4.2.
Available operating systems


OS: Android 8.1.0 (kernel 4.9.119)
Download file: bpi-m4-Android8.1-resources-2019-06-25.zip



OS: Ubuntu 18.04 mate desktop
Download file: 2019-06-18-ubuntu-18.04 -mate-desktop-preview-bpi-w2-m4-sd-emmc.img.zip



OS: raspbian stretch
Download file: 2019-06-19-raspbian-stretch-preview-bpi-w2-m4-sd-emmc.img .zip



OS: AArch Linux (AArch64) mate desktop
Download file: 2019-06-19-aarch64linux-mate-preview-bpi-w2-m4-sd-emmc.img.zip
Banana Pi M4 Specifications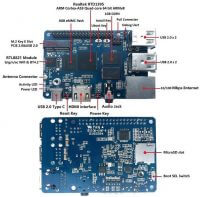 System on a Chip (SoC)

Realtek RTD1395

CPU

ARM Cortex-A53 Quad Core, 32 + 32 KB L1 cache per core and 512 KB L2 cache

GPU

Mali-470 MP4 GPU OpenGL ES 1.1 / 2.0 H.264 H.265, 2K / 4K




decoding: 4K2K H.265, Full HD MPEG1 / 2/4 / H.264 / H.264 MVC, AVC / VC-1, VP8, VP9, ​​AVS, AVS plus, HD JPEG, etc.

RAM

1 GB LPDDR4 SDRAM (optional 2 GB)

ROM

8GB eMMC flash (max 64GB)




micro SD card slot up to 256GB

Etdernet

10/100 Mbps

Wi-Fi and Bluetooth

Wi-Fi 802.11 b / g / n / AC + Bluetooth 4.2 (RTL8821) + antenna connector

Video output

HDMI 2.0b support 1080P H.264 H.265 2K / 4K

Audio out

3.5mm audio jack, HDMI

USB

4 x USB 2.0 host ports and 1 x USB 2.0 type C port (for power and data transfer)

PCI-E

M.2 Key E Slot (Supports PCIe 2.0 and USB 2.0)

Periphery

40 Pins Header, 28 × GPIOs, some of which can be used for specific functions including UART, I2C, SPI, PWM, I2S

Debugging

3-pin debug UART header for console access

Buttons

Reset Button, Power Button, Uboot and Settings, Boot Select Switch

Indicators

Status indicator and power indicator

Nutrition

5V / 2A via USB type-C or PoE port using official

Raspberry Pi 3 Model B +

PoE HAT.

PoE

POE interface support, official PoE module from Raspberry Pi 3 Model B + can be added

Dimensions (edit)

92 x 60 mm

Weight

48 g

OS

Android, Ubuntu, raspbian and Arch Linux
Banana Pi M4 pinout
| Conclusion | Main function | Second function |
| --- | --- | --- |
| CON1-P01 | VCC-3V3 | |
| CON1-P02 | DCIN | |
| CON1-P03 | I2C1_SDA | GPIO-17 |
| CON1-P04 | DCIN | |
| CON1-P05 | I2C1_SCL | GPIO-16 |
| CON1-P06 | GND | |
| CON1-P07 | PWM1 | GPIO-21 |
| CON1-P08 | UR1_TX | GPIO-9 |
| CON1-P09 | GND | |
| CON1-P10 | UR1_RX | GPIO-8 |
| CON1-P11 | SDIO-D0 | GPIO-42 |
| CON1-P12 | AIO_BCK | GPIO-3 |
| CON1-P13 | SDIO-D1 | GPIO-43 |
| CON1-P14 | GND | |
| CON1-P15 | SDIO-D2 | GPIO-44 |
| CON1-P16 | UR1_RTS | GPIO-11 |
| CON1-P17 | VCC-3V3 | |
| CON1-P18 | UR1_CTS | GPIO-10 |
| CON1-P19 | GSPI-MOSI | GPIO-31 |
| CON1-P20 | GND | |
| CON1-P21 | GSPI-MISO | GPIO-18 |
| CON1-P22 | GPIO-47 | GPIO-47 |
| CON1-P23 | GSPI-SCK | GPIO-19 |
| CON1-P24 | GSPI-CS | GPIO-20 |
| CON1-P25 | GND | |
| CON1-P26 | PWM2 | GPIO-22 |
| CON1-P27 | SDIO-D3 | GPIO-45 |
| CON1-P28 | PWM3 | GPIO-23 |
| CON1-P29 | SDIO-CLK | GPIO-41 |
| CON1-P30 | GND | |
| CON1-P31 | SDIO-CMD | GPIO-40 |
| CON1-P32 | SPDIF | GPIO-50 |
| CON1-P33 | AIO_CK | GPIO-4 |
| CON1-P34 | GND | |
| CON1-P35 | AIO_LRCK | GPIO-2 |
| CON1-P36 | GPIO-53 | GPIO-53 |
| CON1-P37 | GPIO-34 | GPIO-34 |
| CON1-P38 | AI_SD | GPIO-5 |
| CON1-P39 | GND | |
| CON1-P40 | AO_SD | GPIO-6 |
Photo gallery Banana Pi M4