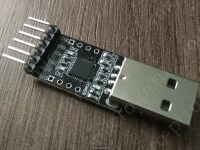 CP2102 is a USB-UART converter (USB to UART Bridge), can be used to program Arduino or other Arduino-like controllers, receive information from anything that has a serial interface with TTL logic to a computer. It can also be used for debugging single board computers, especially those that do not have a video output: NanoPi NEO , Orange Pi Zero , Orange Pi R1 , etc.
The CP2102 boasts an additional DTR pin that can be directly connected to the RESET pin on controllers without USB onboard. After that, when programming, you do not need to press the RESET button. Supported by the manufacturer, compatibility with original drivers and software, as opposed to fake FTDIs that have problems with native drivers. Additional pins (holes for contacts) on the board, for example, allowing USB to go into power-saving mode. An interesting opportunity to change the VID (Vendor Identifier), PID (Product Identifier) ​​and the text with which the board is recognized, to assemble your driver with the required parameters, which is quite interesting in commercial projects.
The adapter is a board without a case on which the CP2102 chip is soldered with a small strapping.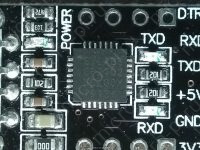 On one side there is a USB connector, on the other 6 pin pins: + 3.3v, GND, + 5v, TXD (TX), RXD (RX), DTR, there are mounting holes on the board with DCD, D3R, RTS, CTS, SUS functions , SUS, R1, RST. In addition, there are 3 LEDs on the board, red - POWER and two for RX and TX blinking during data reception and transmission.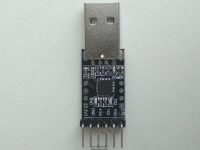 Specifications
CP2102 chip from Silicon Labs

Data exchange rate on UART 300Bit / s - 1Mbit / s

Read buffer 576 bytes, write 640 bytes

USB 2.0 support 12Mbps

SUSPENDED USB mode support

Built-in power stabilizer 3.3V 100mA

EEPROM with configuration parameters 1024 bytes

Supported OS Windows 8/7 / Vista / Server 2003 / XP / 2000, Windows CE, Mac OS-X / OS-9, Linux, Android

Ability to customize board and driver parameters for your projects

Board dimensions 26.5 x 15.6 mm
Module pinout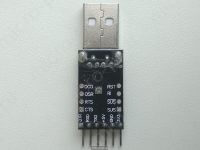 | Conclusion | Description |
| --- | --- |
| 3V3 | 3.3V power supply (output) |
| GND | Land |
| 5V | 5V power supply (output) |
| TXD | Transmit Data |
| RXD | Receive Data |
| DTR | Data Receiver Ready (Data Terminal Ready) |
| DCD | Carrier Detect |
| DSR | Data Set Ready |
| RTS | Request to Send |
| CTS | Send Ready (Clear to Send) |
| RTS | Request to Send |
| RI | Ring Indicator |
| SUS | It is driven high when the CP2102 / 9 enters IDLE mode. |
| ! SUS | It is driven low when the CP2102 / 9 enters IDLE mode. |
Typical wiring diagram for CP2102
CP2102 Driver
You may need the CP210x driver when connecting devices with a Silicon Labs CP2102 chip to your computer. Such a converter is installed on many devices. For example on NodeMCU boards, programmers and some Arduino boards. Without this driver, these devices will be detected as an unrecognized device when connected to your computer.
Installing CP210x Driver on Windows
Download the driver for your operating system from the links above;

Unpack the archive;

Run the

CP210xVCPInstaller_x64.exe

or

CP210xVCPInstaller_x86.exe executable file

;

In the window that opens, click Next, and then - Finish;

This completes the installation.