Maixduino - AI Accelerated Single Board Computer, RISC-V AI, Arduino Form Factor and ESP32 Wireless Module
MAIX is a specialized series of Sipeed products designed to work with AI. Unlike conventional CPs, specialized CPs can work faster and with lower energy costs. Based on the MAIX module, Maixduino is a RISC-V 64 development board for AI (artificial intelligence) and IoT (internet of things) applications. The Maixduino is based on the Kendryte K210 RISC-V AI SoC and, unlike other Sipeed MAIX development boards, is in the Arduino Uno form factor, with an ESP32 module to support WiFi and Bluetooth.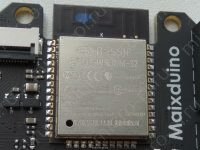 The Maixduino development board was provided by Seeed Studio , the kit retails for $ 23.90 plus shipping and includes an OV2640 camera module, a 2.4-inch TFT display, and the Maixduino board itself.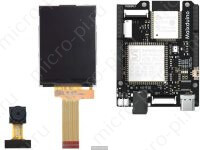 Maixduino can be programmed with MaixPy IDE (MicroPython), Arduino IDE, OpenMV IDE and PlatformIO IDE, and also supports Tiny-Yolo, Mobilenet and TensorFlow Lite deep learning platforms with QVGA @ 60fps or VGA @ 30fps image identification. Maixduino makes Arduino IDEs and libraries to support the Maix series of development boards (k210 chips), making it easy to use the large number of existing open source Arduino libraries to quickly develop your projects.
To connect, you will need a USB 2.0 to Type C cable or adapter, the cable will be used to power and program both the K210 and ESP32 via the dual-channel CH522 chip: the first channel is for the K210, and the second for the ESP32.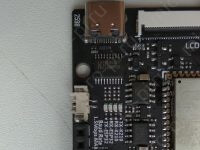 Typical applications:
Smart Home applications such as cleaning robots, smart speakers, electronic door locks, home monitoring;

Medical industry applications such as assistive diagnostics and treatment, medical image recognition, emergency alarms;

Smart Industry applications such as industrial equipment, smart sorting, electrical equipment monitoring;

Educational applications such as educational robots, intelligent interactive platforms, learning effectiveness testing;

Agricultural applications such as agricultural monitoring, pest and disease monitoring, automated control, etc.
Sipeed M1 module (Lichee Dan)
Sipeed M1 module accommodates K210 SoC, 3-channel DC power supply, 8/16/128 MB flash, and M1w version and esp8285 wireless wifi module.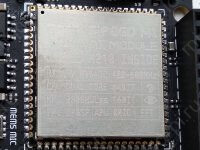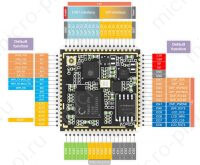 Kendryte K210
Kendryte K210 is a System-on-a-Chip (SoC) that combines: two 64-bit RISC-V IMAFDC cores (RV64GC), each with an integrated independent FPU and a clock frequency of 400 to 600 MHz; Hardware accelerator of convolutional neural networks (CNN) KPU; Hardware accelerator audio APU; SRAM 8 MB.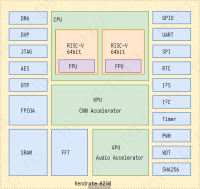 Specifications Sipeed Maixduino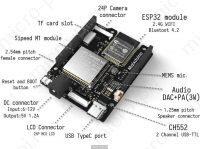 AI module




Sipeed M1 / ​​Sipeed MAIX-I AIoT

System on a Chip (SoC)




Kendryte K210 (CPU + KPU + APU)

CPU




2 x 64-bit RISC-V IMAFDC cores (RV64GC), each with an integrated independent FPU, clock speed 400-600 MHz.

2 x 32Ki I-Cache (instructions cache), 2 x 32Ki D-Cache (data cache);




Hardware accelerator of convolutional neural networks (CNN) KPU;




Hardware Accelerator Audio APU

RAM

8 MB onboard SRAM

Storage

Micro SD (TF) card slot;




Built-in 16M Flash module

Video input

24-pin DVP camera connector;




Supports video capture resolution up to 640 × 480 @ 30fps;




Supports YUV422 and RGB565 input image formats

Video output

Can display images as on KPU;




and to display - 24-pin header for MCU 8-bit LCD

Audio input

Built-in omnidirectional digital I2S MEMS Microphone MSM261S4030H0

Audio out

DAC + PA:




DAC TM8211: 16-bit dynamic range;

Low harmonic distortion;




NS4150: 3W Power Output, 1.25mm Pitch Speaker Connector;

Efficiency up to 90%;

Wireless connection

ESP32 module:




Supports 2.4G 802.11.b / g / n 802.11n




(2.4GHz), speeds up to 150Mbps




Full Bluetooth v4.2 standard including traditional Bluetooth (BR / EDR) and Bluetooth Low Energy (BLE)

USB

1 x USB 2.0 Type C device for powering and programming both K210 and ESP32 via CH522 dual channel chip

Working temperature range

-30 ℃ - 85 ℃

Periphery

Arduino UNO-compatible headers with digital I / O / PWM, I2C, UART, 6x analog inputs and power signals

Nutrition

USB Type-C;




6 - 12 V,> 600 mA via power connector;




4.8 - 5.2V via Vin (?)

Buttons

reset and boot

Indicators (LED)

Power, TX-K210, RX-K210, TX-ESP32 and RX-ESP32

Form factor

Arduino Uno

Temperature Range

-30 ° C to 85 ° C
Photo gallery
Seeed is an IoT hardware provider providing services for over 10 years that enable manufacturers to implement their projects and products. Seeed offers a wide range of hardware platforms and sensor modules, ready for integration with existing IoT platforms and versatile PCB manufacturing and PCB prototype assembly . Seeed Studio offers a wide variety of electronic components including Arduino , Raspberry Pi and many development platforms. Especially Grove Sytsemhelps engineers and manufacturers to avoid jumper problems. Seeed Studio has developed over 280 Grove modules covering a wide range of applications that can meet a variety of needs.